Mars Malt Le Papillon Double Cask "Miyamasijimi"
This product, themed on the Miyama Shijimi, a butterfly of the Shijimi butterfly family that is found in a limited area in central Honshu, is vatted from two casks aged in sherry casks, inspired by its blue-purple color, which can be compared to the blue jewelry of the deep mountains.
This double cask single malt whisky is a gem of a double cask single malt whisky, bottled at natural cask strength and non-chill filtered from the original malt liquor distilled at the Mars Shinshu Distillery in 2016.
In August 2022, the endangered butterfly "Reverdin's Blue" was confirmed to be living in Miyata Village, Nagano Prefecture, where the Mars Shinshu Distillery is located, and a subsequent survey revealed that it is one of the largest breeding grounds for the species in Japan. A small, dainty whisky butterfly found mainly in central Honshu, its blue-purple wings as it flies through the woods are likened to the blue jewels of the deep mountains." This whisky is a double cask single malt whisky, vatted with two barrels of original malt aged in sherry casks, with the image of the "Reverdin's Blue" dancing in the forest.
Tasting Notes
| | |
| --- | --- |
| Flavor | Marmalade, raisins, pudding, sweet spices |
| Taste | Dark chocolate, plums, raisins, cinnamon |
| After taste | Sweet and sour taste through the nose, followed by a spicy aftertaste. |
Product Specifications
| | |
| --- | --- |
| Alcohol content | 61% |
| Liquor categories | Single Malt Japanese Whisky |
| Cask type | Sherry casks (cask numbers: 3368 and 3441) |
| Volume and quantity | 700ml |
| No. of products sold | 818bottles |
| MSRP | 14,300 yen (incl. tax) |
| Date of release | 2023年11月 |
Offer price
At the BAR Shinkai, one glass costs 45ml:4,290円 30ml:2,860円、15ml:1,430円.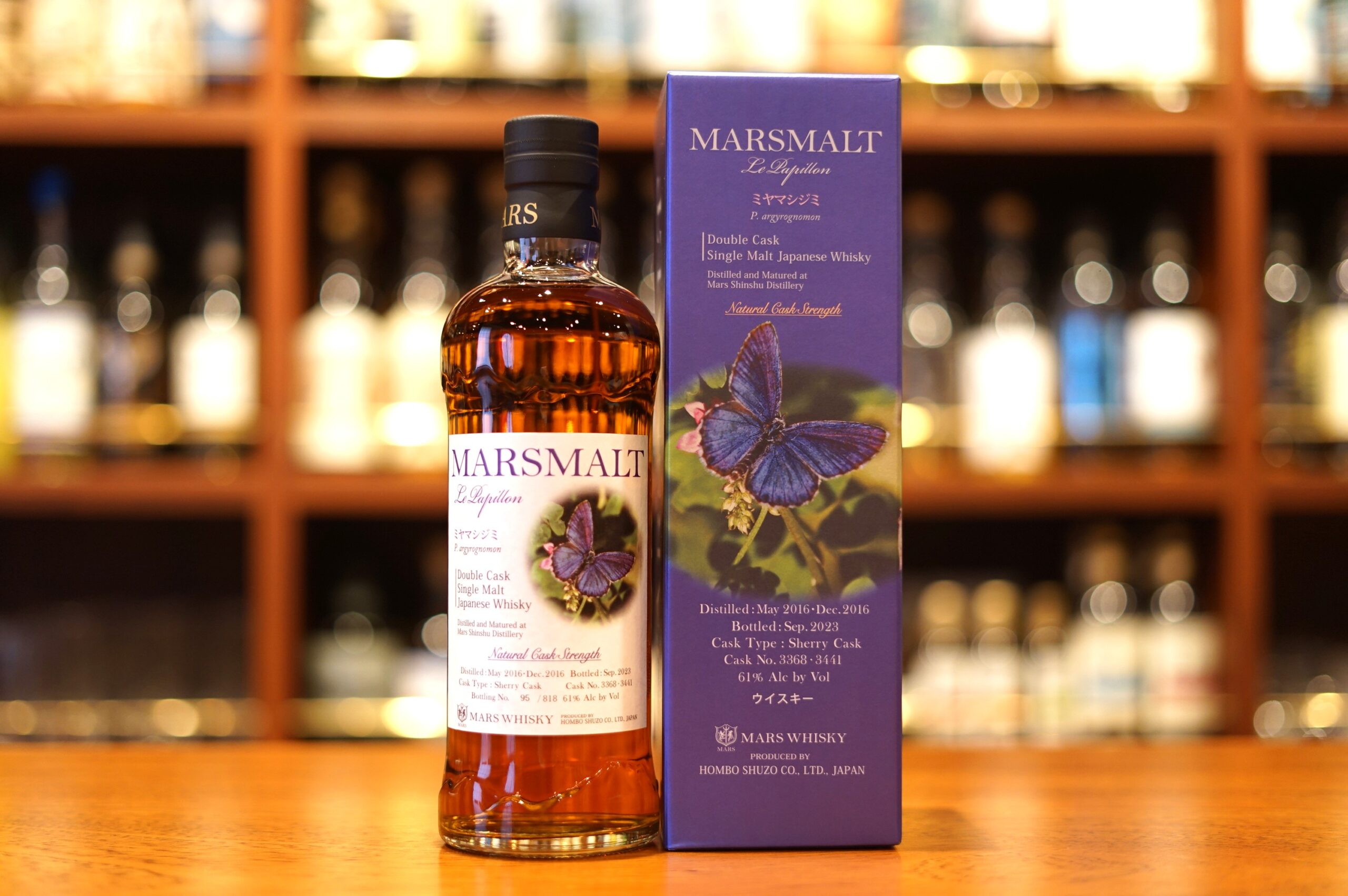 For more information on"mars-malt-le-papillon-double-cask-miyamasijimi" see this article.
For a full list of BARShinkai's whisky menu, click here.